Movement spreads:
Providence (Residential) School:
In 1993, two buildings were constructed on the land. One of them housed the first batch of seven children between the ages of 3-4 years old. The girls had come from the slums nearby in the city. Today the Home has more than 85 children who live on campus. Six girls are studying in colleges, nursing and computer institutes in the city. More than ten have completed some form of vocational training and are settling down in life now.  
The children attended the public school in the village. In 2004 the Board of Trustees felt the need to start a residential school on the campus in order to provide the children quality education competent to the standard of education given in private Christian schools in the city. This was essential in order to prepare and train the girls to be able to face a highly competitive world in future in terms of employment opportunities. Besides, the trustees dreamed of a school which will: a) Provide a loving family environment under the protective, affectionate and direct care of a committed staff. b) Instill Christian character and values in them, impress upon them self-confidence, self-worth and personal dignity. c) Teach 'Holistic Excellence' through Christian and academic education.
The LORD provided sufficient funds to be able to purchase additional land up to almost 6 acres where the "Providence (Residential) School " will be located. Providence School now runs classes up to 8th Standard (grade). Mrs. E. M. Victor, a distinguished educationist who retired as principal of one of the outstanding Christian schools in the city is guiding the school with her expert advice ensuring that the children have a quality education.
Future Plans:
The Board of Trustees is dreaming of developing the school into a big one where we can house about 1000 destitute children some time soon. The term "destitute children", denotes threee categories of children: 1) Total orphans with no parents alive. They are brought to the Home by their relatives. 2) Semi orphans. These children have single parents. In most cases the fathers are dead and their mothers are too poor to provide for the children's most essential need for food, clothing and medicine, leave alone good education. 3) Economic orphans. These have both parents alive, but the father is either in prison or has totally abandoned the family.
Every child who comes to us has the common background of abject poverty. However, some of them come from a unique situation. Here are some stories:
1) Ammu
She was brought to us when she was about 4 years old. A train had pulled into the Railway Station at Chennai. A porter who came to clean the passenger compartments saw a little child sleeping underneath a bench. When he found out she had been abandoned, he promptly brought her to the Home of Love. Ammu is a mentally challenged girl. So, the Home of Love sponsors her study at a special school run by another Christian organization.
2) Vinita
When Vinita was 4 years old, her drunken father picked up a quarrel with her mother late in the evening and stabbed her mother to death. Now her father is in prison serving a life term for committing homicide. Her relatives brought her to the Home of Love. She is now doing her 11th grade in a private school and is supported by the Home of Love.
3) Rani – Not her real name
Rani's mother was a prostitute, living in a slum near the Central Train Station. When she got pregnant with Rani she couldn't tell who exactly was Rani's father, as she had slept with so many men. Rani's mom desired for her little girl to live a decent life, and hence brought her to the Home of Love with one request that her past should not be disclosed to her under any circumstance. The Home of Love will indeed honor that request. ranui knows absolutely nothing about her background.
4) Selvi (Not her real name)
Selvi's dad abandoned the family and never returned. Sevi's mother was determined to get remarried and found a man. Desperate for meeting the wedding expenses, her mother sold the 7 year old Selvi to a child-trafficking agent in Bombay for Rs. 50, 000 ($1000). Selvi's aunt rescued the child and brought her to the Home of Love with the help a pastor. She is now happy child living in a safe and serene environment.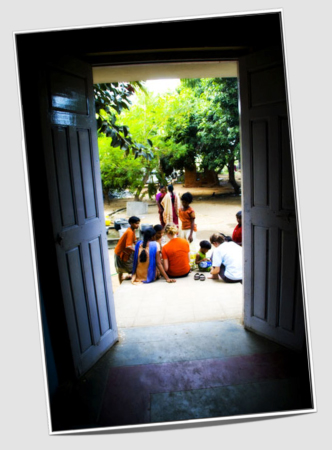 Vocational Training School
The future plan for the Home of Love includes a vocational training school. The Home is surrounded by about a dozen villages. Most of the people who live in there belong to the lowest strata of the society, both socially and economically. A number of boys and girls from poor homes drop out of school quite early and are wasting their life doing absolutely nothing. The HOL vision includes the possibility of opening a vocational school where these dropouts can be taught skills in job-oriented technical studies as like electrical, plumbing, or carpentry. A one-to-two year vocational training may enable them to qualify for a decent job. While they are in the school, they will also be exposed to some noble biblical values as they will be attending the school in a Christian environment.